Exclusive: French police accused of abusing Calais migrants
Comments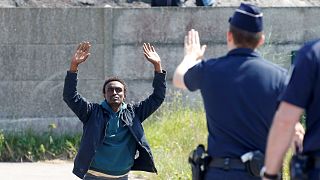 They have ended up in Calais in search of a better life, only to have their dreams shattered. Nine months after the so-called 'Jungle' camp was pulled down, aid workers have told Euronews that migrants are living through hell.
It comes in the wake of a Human Rights Watch report, which claims French police routinely abuse them, including with pepper spray.
"The police regularly arrive in the middle of the night, pulling them out of their sleeping bags, often spraying sleeping bags and the food," said Fanny Plancon, from Caritas France.
"I've taken a lot of people to hospital who've been wounded during this. Sometimes even their papers, everything can be thrown away, it's very difficult for them."
Speaking exclusively to Euronews, one migrant, from Afghanistan, said that he was targeted by police for no reason.
"They got out of their cars when I walked down the street, and they sprayed me in the face. I couldn't see anything and I almost got hit by a car, because I was confused," he recalled.
"But I had not committed any crime. I wasn't in a forbidden area or in a car. I have friends who've been beaten several times, there are some who are still in hospital."
More than 400 asylum seekers and other migrants – mainly from Eritrea, Ethiopia and Afghanistan – are living rough in Calais. That is according to Human Rights Watch, which says around half are unaccompanied children.
"Sometimes they've experienced violence in Libya, journeys across the Mediterranean which have been difficult. And they say what they've been through in Calais is the worst experience," said Plancon.
"It's very complicated for French people to understand, because see ourselves as a country of human rights."
It is reported the French president has now called for an investigation into what is happening in Calais.
Reporting from Calais, Euronews' Nima Ghadakpour said: "We've tried to get reactions from the Calais authorities about the Human Rights Watch report but, so far, we have not had any response. But the report has previously been described as slanderous."