Protests in Brussels as Turkish foreign minister visits EU's Mogherini
Comments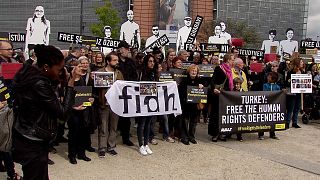 Protesters in Brussels on Tuesday called for the release of human rights activists arrested in Turkey, as foreign minister Cavusoglu met with EU foreign affairs chief Federica Mogherini.
John Dalhuisen, Amnesty International's regional director in Europe and Central Asia told Euronews: "This is a defining moment for civil society in Turkey and it's a defining moment for the international community in its relationship with Turkey.
"These relations need to change and our colleagues – the human rights community in Turkey – need to be released and they need to be supported."
Nealy 900,000 people signed a petition calling for the release of the people protesters describe as "human rights defenders".
Johannes Hahn, European Commissioner for Enlargement, agreed it is a vital moment for EU-Turkey relations.
In a press conference, he said: "The country (Turkey) is, so to say, is slipping away from the European values and this certainly has an impact on the particular relationship Turkey is looking forward to in respect to the European Union."
Similar demonstrations took place in London, Paris and Berlin, as tensions between Turkey and the EU continue to rise.