Serious discussions begin between the EU and the United Kingdom on Brexit
Comments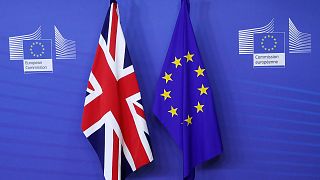 Serious discussions have now started between the European Union and the United Kingdom on Brexit. For your weekly round up of all things Brussels, this is State of the Union.
After establishing the timetable and priorities at the previous round of talks, the Europeans and British began the political discussion. They met in Brussels for the second round of talks.
In an introduction to this new round, the European Union's chief Brexit negotiator, Michel Barnier, summarized the issue at stake: "We are plunged into the heart of the matter. We must examine and compare our respective positions in order to make progress effectively", he said.
But at the opening of the discussions, a photo became the centre of attention.
UK Brexit minister Davis returned to London 3 hours after arriving in Brussels for 2nd round of EU negotiations. Did he forget his notes? pic.twitter.com/9z6ibEYNId

— euronews (@euronews) July 17, 2017
Many tweeted their concern that the British minister responsible for Brexit, David Davis, and his team, appeared to arrive at the table without any notes. By contrast, European Union negotiators were seen as well prepared, and have stressed the need for organization and clarity.
But beyond this picture, what should we remember from these four days of negotiations? Here is our report.
 
Royal trip or Brexit distraction?
The divisions within the British government over Brexit detract from the image of the country. So the United Kingdom has begun a charm offensive to try to defend its image in Europe and around the world.
The royal couple of Prince William and Kate Duchess of Cambridge began a tour of Germany and Poland this week.
William and Kate visit Nazi camp in Poland https://t.co/4L7GqSgmq2pic.twitter.com/ZapQceBBXK

— euronews (@euronews) July 18, 2017
Poland is once again in the sights of the European Commission.
After the reforms to the Constitutional Court, the conservative Polish government now wants to reform the judicial system. But the proposals announced have worried the European institution.
  *North Africa seen as key to Mediterranean migrant crisis* 
Libya and the Sahel region are at the heart of the European Union's efforts to respond to refugee arrivals from the Mediterranean.
The 28 foreign ministers adopted various measures to help Libya stem the flow of asylum seekers.
On the one hand, it is a question of breaking down the economic model of people smugglers. But supporting Libyan authorities in control its borders is also key.
 
Coming up in Brussels
And finally, here is the agenda for next week.
On Tuesday, the Turkish Foreign Minister will meet the head of European diplomacy, Federica Mogherini.
On the same day the Commissioner for Economic and Monetary Affairs will travel to Greece.
And on Sunday, July 30, the US Vice President Pence will meet with the leaders of the Baltic states.
 
Thanks for watching, and have a good week.