EU looks to Africa to curb migrant numbers
Comments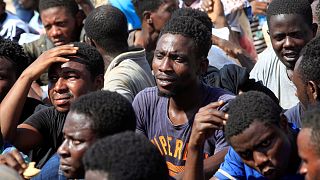 As Europe continues to deal with the Mediterranean migrant crisis, EU foreign affairs chief Federica Mogherini convened the Foreign Affairs council. She praised governments and UN agencies' work in the Sahel region, in helping to cut migrant numbers.
"It is thanks to their work south of Libya, namely Niger, that we have now the lowest point of access into Libya from Niger. Its also thanks to the cooperation of the authorities in Niger and the local authorities", she said.
Libya is part of a key route for many sub-Saharan migrants making their way to Europe.
In March, European Union frontier agency Frontex said the number of those taking the central Mediterranean
journey was increasing.
But Amnesty International say migrants are only a symptom of the crisis.
Iverna McGowan, Director of Amnesty International Europe, told euronews: "The higher you build the wall, the higher the ladder for people to jump over. It is very clear that as long there is violence, conflict, war crimes and desperate poverty, people will continue to flee and they will continue to move. There has to be a more holistic approach: can we offer visas, education, family reunification, resettlement?"
In June, the EU announced it would provide 50 million euros to boost security in Mali, Mauritania, Niger, Burkina Faso and Chad.
But during the same month, the number of migrants drowning before reaching Europe almost doubled compared to the same statistic in 2016.