EU unveils migration action plan for Italy
Comments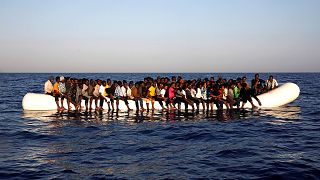 The EU has unveiled a new action plan designed to help Italy cope with the influx of migrants to its shores.
It earmarks some thirty million euros in aid for the Italian government.
Interior ministers from the twenty eight member states will discuss the proposal on Thursday at a meeting in Tallinn, Estonia.
"When we drafted the Dublin regulation, we never envisaged this sort of specific situation as we have now been facing for the last two or three years in Greece and Italy.
"But there is also concern in Europe that many people who do not the status of refugees or aren't refugees are using the opportunity to come here for economic reasons and that is not what the refugee status is all about," said European Commission First Vice-President Frans Timmermans.
Rome has also called for a code of conduct for sea rescue NGOs.
An EU agreement to relocate 160,000 migrants has seen just over 20,000 moved from Greece and Italy.
Last week, the government called the situation "unsustainable" and threatened to close its ports to humanitarian ships not flying the Italian flag.
"Italy is crying out loud that it's about time, that the rest of the EU member states honour the figures the numbers the commitments they made once upon a time," said Juan-Fernando Lopez Aguilar, a centre-left MEP from Spain.