Top MEP threatens Brexit deal veto over citizens' rights
Comments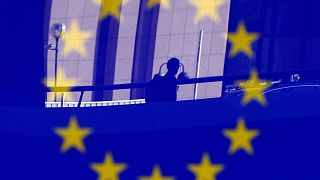 The European Parliament's chief Brexit coordinator has warned MEPs will veto a deal with the UK.
Guy Verhofstadt wrote in the Guardian newspaper that Theresa May must improve her offer to protect the rights of EU citizens.
The former prime minister of Belgium said a mechanism should be set up in which the European Court of Justice should play a full role.
He also warned that EU nationals would become second class citizens.
It was a call echoed by a fellow Belgian MEP: Philippe Lamberts of the Greens.
"What the call a generous offer is not really generous, when you compare with the rights that the British citizens will enjoy on the continent that the EU gives to any third country nationals," he told euronews.
"The rights that the British government is prepared to grant to he EU citizens are basically sort of second class citizenship that can be revoked at any point and time. It's what they call the settled status, which you can earn, and not easily, and once you have it….it can be revoked," he said.
Damian Green, a member of Theresa May's government, denied Verhofstadt's claims in a radio interview on Monday, urging the Liberal leader to "read our proposal."
Maria Dermertzis of the Brugel think-tank warned that highly qualifed EU nationals would look for work elsewhere unless the issue was solved.
"They will be very discouraged from staying in the UK or going to the UK and so I think that's gonna have a negative impact on the UK economy," she said.
Further Brexit talks are set to take place later this month.