Brexit dominates yet another EU summit
Comments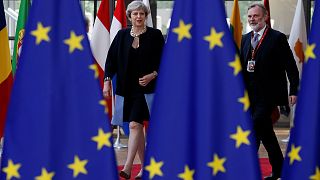 Brexit looms large over yet another EU summit.
Diplomats are more optimistic than after the referendum one year,
They cited the arrival of new French president, Emmanuel Macron, who stood on a pro-EU platform.
Macron told reporters that the EU needs to tackle the "fears" of voters' daily lives.
"We will work on the fight against terrorism, on migration issues, especially on defense issues," he said ahead of the meeting of the 28 heads of state and government,
Meanwhile, the British prime minister Theresa May will outline "key principles" on protecting the rights of Europeans post Brexit.
EU negotiators have been urging her to do so, amid fears from some expats in the UK that they might even be deported from a post-Brexit Britain.
"I am going to be setting out today is clearly how the UK proposes to protect the rights of EU citizens living in the UK and see the rights of the British citizens living in Europe protected, that's been an important issue," said May.
More details on how that would work in practice are expected to be unveiled next week.
May returns to Brussels after her election gamble backfired two weeks ago: she had been on course for an overwhelming victory, but ended up losing her parliamentary majority.
Some EU officials, speaking on condition of anonymity, questioned whether the British premier would have the authority at home to get any Brexit deal negotiated in Brussels through parliament.