East .v. West: Future of EU 'posted workers' stirs debate
Comments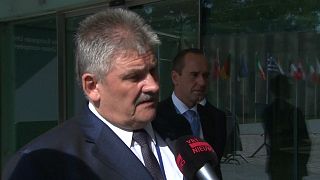 Germany and France want controversial EU reforms over the future of posted workers to go further and deeper.
The planned changes, opposed by Eastern Europe, aim to bring a level playing field.
Posted workers, sent by their employers to work in another EU country temporarily, get the same pay as at home – they also continue to pay social security there.
The pay can be less than the country where they are working on a temporary basis.
The current system stands accused of creating so-called "social dumping."
"Last week I had the opportunity for a close exchange with my French colleague and we shall take the same position, namely that there needs to be further improvement," said Andrea Nahles, German Employment Minister.
"There has been progress, but we still have things to do before we can conclude this."
France supports job postings being limited to a year and applied to the road transport industry.
"I think transport should not be included in this posting directive. It is making it even more complicated," said Jan Richter, Slovakia's Employment Minister.
"If it was treated through another directive, I think we could reach a compromise much earlier."
Posted workers are often used in construction, slaughterhouses and agricultural work.
For now, as the debate over the delicate reforms rumbles on, their future pay and conditions continue to hang in the balance.