EU and China turn on Trump over climate change withdrawl
Comments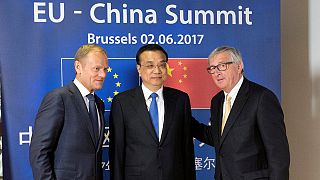 There has been a meeting of minds between China and European leaders following their Brussels summit.
There are still disagreements over WTO rules but
positions narrowed on steel overcapacity and what to do about North Korea's missile tests.
"China's position is consistent. We are firmly committed to the denuclearisation of the peninsula and opposed to nuclear tests and missile launches by North Korea," Li Keqiang told a joint news conference.
My press remarks at #EUChinaSummit: https://t.co/zXJH8nnak1pic.twitter.com/dRhVxYk5Al

— Donald Tusk (@eucopresident) June 2, 2017
Sentiments shared by the European Council President Donald Tusk: "Today we are stepping up our cooperation on climate change with China, which means that today China and Europe have demonstrated solidarity with future generation and responsiblity for the all planet."
"We are convinced that the decision by the US to leave the Paris agreement is a big mistake," Tusk added.
Both sides are expected to renew their commitment to the Paris Climate Agreement.