NATO and EU defence ministers talk cooperation, Trump and cyber security
Comments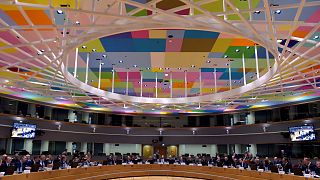 The European Union's defence ministers have been meeting in Brussels to debate how to strengthen Europe's defence and security as well as working better with – and within – the NATO military alliance.
EU foreign policy chief Federica Mogherini told reporters cooperation is key: "Investing together, this is the best way to have an efficient European defence. It's a way of having a rational and efficient joint manner of working on defence. The European Union member states need to overcome the fragmentation in this field and use all the instruments we have in our union."
Today #EU defence ministers are discussing #NATO cooperation together with SG jensstoltenberg</a>. Check-out our infographic for more info. <a href="https://t.co/TsqaxVfzO1">pic.twitter.com/TsqaxVfzO1</a></p>— EU Council Press (EUCouncilPress) May 18, 2017
Practical cooperation
Improving cooperation with NATO was also discussed. NATO Secretary-General Jens Stoltenberg said it is at new high levels: "We are making progress, step by step, in many different areas to strengthen the practical cooperation between NATO and the European Union. Cooperation between NATO and the European Union will also be an important issue we will highlight when NATO leaders meet exactly one week from now in Brussels."
That will be the first alliance meeting attended by US President Donald Trump who is pushing for a bigger role for NATO fighting so-called Islamic State in Syria and Iraq, something resisted by France and Germany.
SG jensstoltenberg</a> stresses progress made in closer cooperation between <a href="https://twitter.com/hashtag/NATO?src=hash">#NATO</a> & <a href="https://twitter.com/hashtag/EU?src=hash">#EU</a> at EU Defence Ministers meeting <a href="https://t.co/91hGEE3eSW">https://t.co/91hGEE3eSW</a> <a href="https://t.co/kgiWPvi5YB">pic.twitter.com/kgiWPvi5YB</a></p>— Oana Lungescu (NATOpress) May 18, 2017
What difference would it make?
According to allies involved in the discussions they are concerned that doing more in Syria and Iraq might mean NATO getting caught up in another costly, Afghan-style deployment, irk some Arab countries or risk confrontation with Russia in Syria.
"They want to know 'what difference would it make?'. All 28 NATO allies are already part of this effort," a senior European NATO diplomat told the Reuters news agency, referring to a 68-nation US-led coalition against Islamic State that includes all NATO members.
Cyber warfare response
Stoltenberg also said in the face of increasing cyber threats NATO and the European Union have stepped up their response to events like the recent ransomware attack.
Stoltenberg told reporters: "Cyber threats are something we have to take very seriously. And last year NATO experienced 500 cyber incidents on average every month. And that's a 60 percernt increase compared to the previous year and last Friday NATO issued a warning to all allies after the ransom wear attack we saw. And we also shared that warning with the European Union and the European Union shared their information with NATO. We have also recently granted the European hub for cyber security access to NATO's malware information sharing platform so now NATO and the European Union are able to share information in real time on cyber attacks as the attack we saw last weekend."
Confident on info sharing
The NATO chief said he is confident that all NATO members can safely share information, amid doubts about the nature of President Donald Trump's discussions with Russian diplomats.
Stoltenberg said" "I trust all allies enough, and I'm absolutely certain that they are able to share and to handle this information in a good way."
The White House has played down the importance and secrecy of information that Trump might have shared with Russia's foreign minister and ambassador, some possibly supplied by Israel under an intelligence-sharing agreement.