Ukraine and EU sign long-awaited visa waiver deal
Comments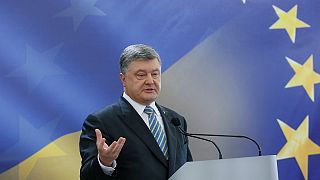 Ukrainian and EU officials have signed a long-awaited visa waiver deal.
Ukrainians with biometric passports will now be able to enter EU countries without visas for up to 90 days within any 180-day period.
Ukraine's President Petro Poroshenko said: "Ukraine returns to the European family. Ukraine says a final farewell to the Soviet and Russian empire."
The deal comes after years of negotiations and agreement on reforms.
European Parliament President Antonio Tajani said: "After this positive decision the relation between your country and the EU will be easier.
"We want to work as the EU parliament, as an EU institution, for good solutions, and also for the implementation of the Minsk agreement."
The visa waiver deal covers tourism and business trips but not for work.
Aleksander Babyn, a Kiev resident, said: "I travelled many times to Europe. It always cost money, with a lot of paperwork. Visas were very short and I had to stick to the dates.
"Now this visa-free regime will make it easier for those who go to Europe for travelling or business purposes."
The new deal covers EU countries, as well as Norway, Iceland, Liechtenstein and Switzerland, but not Ireland and the UK.