Guterres says success of UN depends on strong and united Europe
Comments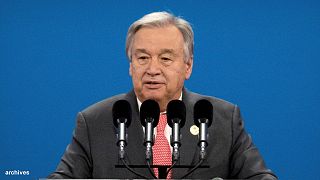 The success of the UN will depend on a strong and united Europe.
Those words from the UN Secretary General during an address to Members of the European Parliament in Strasbourg.
Antonio Guterres, a former Portuguese PM who took over as UN chief in January, told a plenary session of parliament: "We need to strengthen the capacity of the United Nations both in conflict resolution, in preventing (conflict) and in sustaining peace: our new most important priority!
"But we will never be able to do it without very strong support and commitment from the European Union.
"A strong and united Europe is an absolute fundamental pillar of a strong and effective United Nations, and this is a very clear message I'd like to address to you all."
Antonio Guterres also told MEPs he was committed to carrying out reforms at the UN to make it "more effective", to "rebuild trust" and better answer people's "aspirations".
The UN chief also talked about the need for more global cooperation in the fight against ISIL, to resolve the conflict in Syria and address the issue of migration and asylum seekers.