Hard Irish border would be 'a disaster', ex-UK PM Blair says
Comments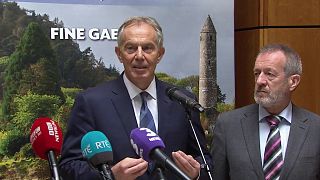 A return to a hard border in Ireland would be a disaster, former British Prime Minister Tony Blair said on Friday.
The comments came from ex-UK PM Tony Blair following a visit by chief Brexit Negotiator Michel Barnier.
Blair helped broker the Good Friday Agreement which saw the watchtowers and security checks removed after years of violence in Northern Ireland.
"There's a really common desire whatever other issues there are in relation to Brexit to make Northern Ireland a special case and make sure that we do everything we possibly can to protect the Good Friday Agreement, the peace process," Blair told reporters in Wicklow, Ireland.
"There are really important and difficult challenges in this. At the moment we have a common travel area, where people can travel freely, between south and north, north and south, on the island of Ireland, this is vital to maintain."
Earlier in an interview with Irish broadcaster RTE, Blair said: "It really would be a disaster to have a hard border."
The EU's negotiating guidelines call for "creative and imaginative solutions" to stop the return of a hard border.
If Britain quits the customs union, customs checks would, in theory, have to be reinstalled.
Both the EU and the UK side have yet to outline their plans.
The thirty year conflict in Northern Ireland centered on its constitutional status.
The unionist, largely Protestant majority wanted to stay inside the UK, while the republican Catholic minority wanted to become part of the Republic of Ireland.