Insiders: The fight against Radicalisation in France
Comments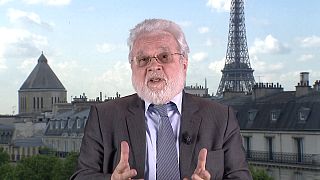 Euronews – Sophie Claudet
"Mr Caprioli, we have seen that other ways of preventing terrorism were, for example, through education.
Louis Caprioli – former french intelligence official
"Yes, there is work throughout the whole education system, but again teachers need to be trained. Teachers are currently being asked to pay attention, to be whistleblowers , but they should still be trained for that.
"And it is obvious that from adolescence, one should pay attention to inappropriate behaviour from certain boys. It is true, I believe that interventions such as the mother of the paratrooper assassinated in 2012 are a model to be developed because we are getting to the heart of the problem.
"It is not a video being shown, it is a woman who lost her son and who explains the drama that she lived and the tragedy that radicalisation causes."
Euronews – Sophie Claudet
"Do you think it's reasonable to say that we will have to live with this terrorist threat in Europe year after year for better or worse?"
Louis Caprioli
"I believe that in Europe we will live with this terrorist threat, especially since this terrorist threat is not just endogenous, it is exogenous.
"We know that it is the situation in Iraq; the situation in Syria; the situation in the Sahel that are having repercussions on our territory. So long as these problems are not resolved, so long as these huge questions like the relationship between North and South; the problem of Palestine and Israel – are not settled, we will unfortunately have to live with this threat. "
Live updates from our Insiders team