EU leaders to discuss Brexit without UK
Comments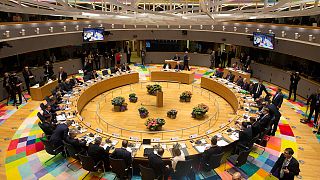 EU governments meet in Brussels on Saturday in the first summit without British PM Theresa May.
The twenty seven leaders will endorse the European Commission's negotiating guidelines.
Diplomats say talks will focus uniquely on the divorce until the EU 27 believe there is sufficient progress on key issues.
European Council president Donald Tusk wrote to leaders, highlighting that the rights of EU citizens and the question of Ireland need to be settled as soon as possible.
The former prime minister of Denmark and ex-NATO chief, Anders Fogh Rasmussen, told Euronews:
"A fair deal would include that very rapidly, you reach a conclusion on the rights of citizens. At the same time you have to reach an agreement on the bill over Brexit and find also I think very rapidly, we should find a solution to the particular problem with the Irish- British border to prevent new problems in Northern Ireland"
British PM Theresa May met European Commission chief Jean Claude Juncker on Wednesday, saying that the UK wants a deep and special relationship with the EU once it had left the bloc.