EU criticism mounts of Hungary's crackdown on foreign universities
Comments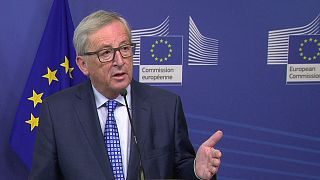 There is criticism from the European Commission's president over controversial moves by Hungary's prime minister to crackdown on foreign universities.
A new law has been passed by Budapest's parliament which could force out the Central European University, founded by financier George Soros, despite protests and international condemnation.
"On the question of the closure of the university, the college of commissioners will deliberate on it on Wednesday. I don't like the decision," said Jean Claude Juncker, the European Commission President.
"As for the questionnaire that Mr Orban sent to all Hungarian households, it is not a question of quitting the EU, but a question of stopping Brussels. This way of saying bad things about Brussels, after signing the Rome declaration, reveals more about the author than the state of the EU."
Viktor Orban's right-wing government, which says the new university law addresses administrative shortcomings, now faces possible EU disciplinary proceedings.
Orban's Fidesz party has also said that it will present a bill to parliament which requires non-governmental organisations (NGOs) with a yearly foreign income of 7.2 million forints to register with the authorities.
NGOs, many of whom receive grants from Soros' Open Society Foundation, often speak up on behalf of migrants, clashing with the view expressed by Orban and other eastern European leaders that migration is an existential threat.