MEPs call for infringement process against Hungary
Comments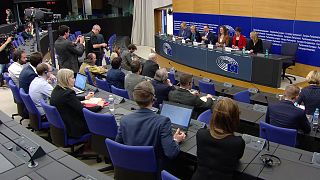 Politicians across the European Parliament have denounced moves in Hungary, which could force out the Central European University – funded by George Soros – despite protests.
A new law has been approved, which the right-wing government says addresses administrative shortcomings of foreign universities.
Hungarian Prime Minister Viktor Orban, a critic of liberal civil organisations funded by Soros, said last week that the Central European University had violated regulations in awarding diplomas – an allegation it rejects.
"We all have to respect, we want to respect values to which we subscribed: that means especially freedom, democracy, human rights, peace. And when I am thinking about the Central European University, freedom of education," said Roza Thun, a Polish centre-right MEP.
MEPs are demanding an infringement process is now launched against Hungary – which could mean sanctions.
"My group, the Alde group, we are very much in favour of triggering article 7.1. And that means to starting the process of dialogue, investigating, and ultimately, if the government does not respond, if the government does not comply, it may lead to sanctions," said Sophia in 't Veld, a Dutch Liberal MEP.
"You always hope it does not get to an ultimatum, but I would very much welcome if finally the member states also speak out."
There has also been condemnation of Hungary beyond Europe.