Brexit is 'not the end' of the EU
Comments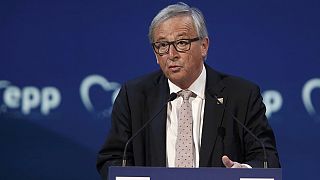 We will survive – the message from the EU's most powerful political family in the wake of Britain's formal decision to quit the bloc.
Brexit is dominating the two-day congress of the centre-right European People's Party (EPP) in Malta.
"Brexit is not the end," President of the European Commission, Jean Claude Juncker, told those gathered.
"There are many who would like it to be, even on another continent – where a newly-elected president is really pleased that the British are leaving the European Union, and actually asked other countries to do exactly the same thing.
"If this continues, I will also demand the independence of Ohio and the departure of Texas from the US."
With control of the main EU institutions in Brussels, the EPP will be one of the most important pressure groups behind the scenes of the Brexit talks.
It says it will seek to ensure the rights of EU citizens in Britain continue, that Northern Ireland avoids a hard border with Ireland and that London settles its accounts on leaving.