EU and Japan set sights on new trade and political pact
Comments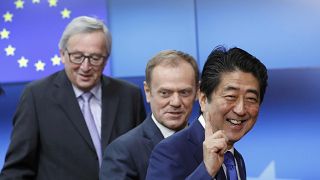 The world needs a "strongly united Europe." That from Japanese Prime Minister Shinzo Abe, who has been meeting EU leaders in Brussels.
Tokyo and Brussels want to create a new political and trade alliance, amid threats of protectionism and military escalation.
"I reiterated the commitment to Prime Minister Abe, notably following North Korea's violations of UN Security Council resolutions," said Jean-Claude Juncker, European Commission President.
"We will continue implementing UN resolutions and consider further restrictive measures needed to keep up the pressure".
Abe welcomed the EU's readiness on security cooperation. He also stressed that a free trade agreement would help curb growing protectionism.
"Going forward, Japan and the EU and the US should, hand in hand, work to maintain and reinforce the free and open international order, and today I wish to reaffirm that resolve, together with the presidents Tusk and Juncker," said Abe, standing alongside Junker and EU Council President Donald Tusk.
The next round of negotiations on a deal comes next month, a final agreement expected by the end of the year.
Reporting from Brussels, Isabel Marques da Silva said: "After having annulled the traditional annual summit, last year, the European Union and Japan are trying to revive the negotiations for a trade and political agreement.
"Japan has to be particularly careful so ensure the terms don't upset the US, its main partner in defence against China's military ambitions and North Korea's aggression."