Juncker warns Britain must pay 'hefty bill' to leave the EU
Comments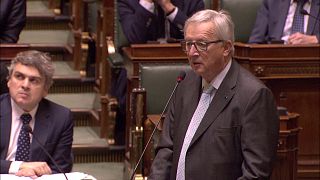 The UK will face a "very hefty" bill for leaving the European Union, European Commission president Jean-Claude Juncker said on Tuesday.
The former prime minister of Luxembourg made the comments in a speech to Belgian politicians about the forthcoming negotiations with the British government.
The European Commission estimates that the so-called 'Brexit bill' could be as much as 60 billion euros.
"It will be a tough negotiation which will take two years to agree on the exit terms. And to agree on the future architecture of relations between the United Kingdom and the European Union we will need years," Juncker said.
"The British people have to know, they know already, that it will not be at a discount or at zero cost. The British must respect commitments they were involved in making. So the bill will be, to put it a bit crudely, very hefty."
The Commission's calculations include outstanding spending promises made by Britain during its EU membership; contributions to the pension schemes for EU officials, and other liabilities, such as bailout loans to Ireland.
But these arguments have never been legally tested before as Britain will be the first country to leave the European Union. There is also the risk that it could poison Brexit negotiations and anger voters back in the UK.
It comes as the House of Lords, the upper chamber in the British parliament, debates the bill that will allow Prime Minister Theresa May to trigger Article 50.
May has set herself a deadline of March 31 and EU leaders are set to meet in Brussels on March 9 and 10 for another summit.