Austria's president takes swipe at 'populist' parties.
Comments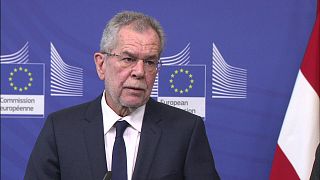 Austria's president took another swipe at so-called populist parties on Monday as he held talks with European Commission president Jean-Claude Juncker.
Alexander Van Der Bellen will travel to Strasbourg on Tuesday to address MEPs.
"You can actually actually win against rightist populism, it is possible that has to sink in the brains of colleagues in all teh countries of the EU," he told reporters in Brussels.
"In particular, perhaps in the Netherlands presently and in France. That is one message and the other one is, try to get the young people on your side."
The Green politician, who ran as an independent, beat far-right candidate Norbert Hofer in December's vote for the largely ceremonial role of president.
That election was a re-run, owing to voting irregularities that surrounded the first count.