EU refuses to rule out legal action over refugee relocation
Comments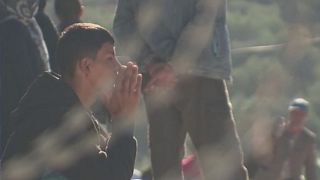 EU countries have taken in just 12,000 migrants from Greece and Italy in a year and a half.
The agreed target was to relocate 160,000 by this September.
A senior Commission official says legal action could be the next step.
Frans Timmermans, the EU executive's number two, said the body "might start an infraction procedure…. and we will certainly consider that."
"But at this stage I hope we can be convincing in a political sense. I think it is highly unfair to leave that only to Greece and Italy. I think there should be a collective responsibility of all member states, " he told reporters in Brussels.
The next progress report on the relocation scheme will be delivered in March.
EU governments finalised the scheme in September 2015. The idea was to help frontline southern nations cope with the flow of migrants into their countries.
The quotas are different for each member state. They are based on wealth, population, unemployment rate and the number of asylum applicants already processed.
Last week, EU leaders met in Malta to discuss how to further tackle the issue of migration. They agreed to help Libya stop refugees and migrants in the first place with financial and logistical aid.