EU foreign policy chief criticises Trump travel ban, Farage trolled
Comments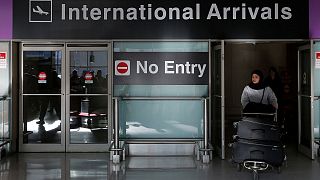 The EU's foreign policy chief has underlined opposition to Donald Trump's controversial travel ban, saying no-one should be deprived of their fundamental rights.
"The US Department of State has clarified yesterday that the citizens of the EU will not be affected by the ban even if they hold dual citizenship in one of the seven countries listed in the executive order," Federica Mogherini told a European Parliament session in Brussels.
"We welcome this clarification, but let me be absolutely clear this does not change our overall assessment about the executive order."
"No one can be deprived of rights because of place of birth, religion or ethnicity. This is in our constitutions, in EU and US" FedericaMog</a> <a href="https://t.co/S7Ur5YPbp7">pic.twitter.com/S7Ur5YPbp7</a></p>— EU External Action (eu_eeas) February 1, 2017
International outcry
Trump recently signed an executive order, halting refugee admissions and temporarily barring people from seven Muslim-majority countries. The move has sparked angry protests at home and abroad.
One top EU official said the new American president is part of a multi-pronged attempt to undermine the bloc.
"We have the autocrat Putin who wants to defy Europe, we have President Trump who have a populist nationalist view and want to disintegrate us, we have the threat of the radical Islamists in the south and we have our bunch of people who want to destroy the inside of the EU," Guy Verhofstadt told the parliament.
"We can do one thing that is unite us, fight back as the EU."
Farage trolled
Nigel Farage was heckled in Brussels as he defended Trump.
Wearing a Trump badge on his lapel, he said: "the anti-Trump rhetoric that is coming from everywhere" is in fact a reflection of the "anti-Americanism" of the European Union.
He also called the opponents of Trump's travel ban hypocrites and said that former US President Barack Obama introduced a similar measure in 2011 when he "banned any Iraqi from going into the country for six months."
While Farage was speaking, a Labour Party MEP from London, sitting behind Farage, held up a banner that read "He is lying to you."
A Labour MEP appears to be told off after holding a "he's lying" sign behind Nigel Farage in the European Parliament https://t.co/NzDgrhBL59pic.twitter.com/mHoe4r4naC

— The Telegraph (@Telegraph) February 1, 2017
Amid the claims of discrimination, the EU itself is currently working to curb the flow of migrants and refugees to its soil.
Measures fall well short of Trump's travel bans, but some members have already put up fences.