EU's Mogherini tells Kosovo, Serbia to end blame game
Comments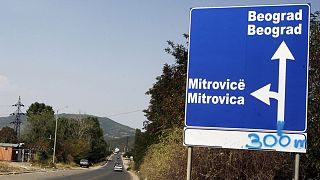 The EU's foreign policy chief has called on Kosovo and Serbia to do more to repair relations after weeks of risen tension between the two.
The leaders of both governments were in Brussels to take part in EU-backed talks.
"I hope that in the coming hours and days we can make sure that everybody comments a bit less on each others and we engage more and concretely on solving the problems that are still on the table," Federica Mogherini told reporters.
Kosovo declared its independence from Serbia in 2008; a move that neither Belgrade nor its ally Moscow recognise.
A train emblazoned with the slogan Kosovo is Serbia was turned back from the border between the two, and Serbs in the north of Kosovo also built a wall in the ethnically divided town of Mitrovica.
They said it was for landslides; ethnic Albanians claim it was to keep them out.
Serbia launched a crackdown in Kosovo in the late 1990s as a response to a separatist movement .
The conflict was halted by a NATO military intervention in 1999.