'Populist' Grillo dumps Farage, eyes marriage of convenience with federalist veteran
Comments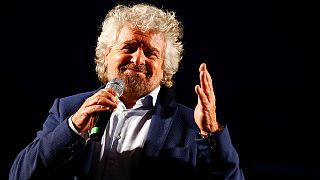 An anti-establishment party founded by an Italian comedian and a political group led by a veteran EU federalist.
In an online vote, members of Beppe Grillo's Five Star Movement said they want to join Guy Verhofstadt's Liberal group in the European Parliament.
The party is a long time opponent of the single currency, which makes this move look like a marriage of convenience.
And an enormous U turn for Verhofstadt, who is running for the parliament presidency.
In 2014, he said: "It is impossible for any responsible, pro-European group to take the M5S on board."
If approved by senior Five Star officials later today, 17 of their MEPs will join the Alliance of Liberal and Democrats for Europe.
It will weaken their current bloc, the EFDD group, led by UKIP.
Beppe Grillo has told Nigel Farage that "our paths have taken a different route" now that his eurosceptic party has achieved its goal of winning a referendum on the UK's EU membership.