Swiss duck immigration row with the EU
Comments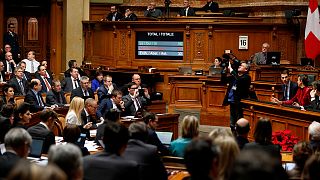 The Swiss parliament has avoided a clash with the EU over immigration rules by ditching plans for jobs quotas for foreigners.
Lawmakers in Bern instead backed a bill to give locals a head start on filling vacancies.
The idea was to avoid a row with a crucial trade partner.
"It is a good sign that the law is not intended to impose quotas on the free movement of EU citizens and does not envisage restricting their access to employment in Switzerland, contrary to what was in the initial draft of the text," said European Commission spokesman Margaritis Schinas.
Since 2007, most of the EU's 500 million residents have been on an equal footing with locals in the Swiss job market.
That was a policy voted into law in a 2000 referendum.
The right-wing, anti-immigration Swiss people's party pushed for the referendum in 2014 which backed quotas.
They accused MPs of caving in to Brussels and ignoring voter concerns.