Tunisia's president seeks support in Brussels
Comments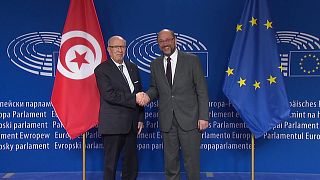 Tunisia's president has come to Brussels to meet EU officials, as he seeks to boost security and shore up the country's fragile economy – six years after the Arab Spring uprising.
Progress has been hampered by militant attacks, red tape and corruption.
"Tunisia is a target for terrorists because its democratic and social model is the opposite of their obscurantist approach," El Beiji Kaed Essebssi told Euronews.
"Tunisia is on the frontline in the fight against terror and deserves to be fully supported in its efforts."
Tunisia has been lauded as the sole success story of the Arab Spring uprisings in a region plagued with instability. Its democratic transition has not been seen in other countries, such as Libya.
"Tunisia, Algeria and Egypt have direct contact with Libya on three levels: security, geographical and economic levels," said El Beiji Kaed Essebssi.
"May God help us to meet and coordinate together with Libyans. If this happens, we might give Libya, through our help, the opportunity to stabilise the country."
Tunisia receives EU funding and, this week, the European Investment Bank offered financial support at an international conference – an event which saw Tunisia win billions of euros in pledges.
The challenge now is to convert those pledges into jobs and sustainable growth in a country where foreign investment has been falling.