NGO warns of worrying healthcare access for migrants in Europe
Comments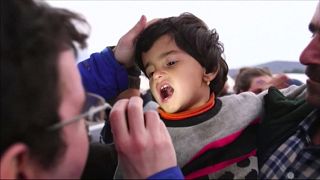 A report by a leading medical NGO has found that migrants are struggling to access proper healthcare across Europe.
More than 30,000 people were surveyed in 12 countries. It found that 67.5 percent of them had no health coverage, while 21.5 percent had given up seeking medical care or treatment.
Doctors of the World looked at the level of access to healthcare enjoyed by those who use their clinics, many of whom are non-EU migrants or refugees.
"Around 40 percent of all the consultations are for children, half of them are under the age of 5 years. So you can see the challenges they are facing. Of course, they have access to primary health care, but the problem remains regarding secondary health care," said Stathis Poularakis from Doctors of the World Greece.
The charity says that health coverage is a human right, regardless of one's migration status.
"For all European countries at least to ensure a complete access to full universal health coverage, for anybody living in the countries. That would be saving a lot of money, a lot of pain and a lot of sufferance," said Nathalie Simonnot from Doctors of the World International.
The report found that many interviewees faced financial barriers to accessing healthcare, while undocumented migrants said they also feared being arrested if they did not have the right paperwork.