EU's Oettinger in hot water over 'racist' remarks
Comments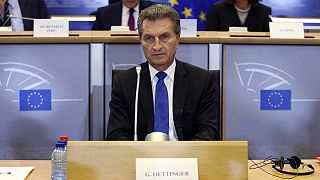 A top European commissioner is under fire after he called Chinese officials 'slitty-eyed rascals'.
Germany's Gunther Oettinger, a member of Angela Merkel's Christian Democratic Union Party, made the remarks in a speech in Hamburg.
Some video footage was uploaded to YouTube.
"All of them in suits, single breasted jackets, dark blue. All of them had their hair combed from the left to the right, with black shoe polish," the video showed Oettinger saying.
"It was somewhat slang expression that was in no way meant to show a lack of respect for China," the EU commissioner told Germany's Die Welt newspaer.
He also branded Wallonia a micro region run by communists over its opposition to the Canada trade deal, Belgium's Le Soir newspaper reported.
"I was not in this room, I saw the video as you did, and as to why and the explanations around this video, I think that we have to listen to what Gunther Oettinger has to say. I can not say anything else, that's what there is," said a European Commission spokesman.
Oettinger is set to over as EU budget commissioner after Kristalina Georgieva of Bulgaria said she would become CEO of the World Bank.
Both officials in Brussels and Berlin are now calling on him to resign from the Commission.