FGM and forced marriage: EU countries not spared
Comments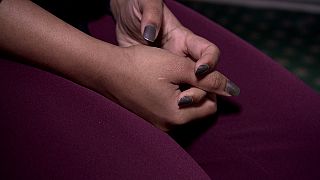 A few days ago, many countries celebrated the UN-sponsored International Day of the Girl Child. While we at Insiders very much believe that young girls the world over should indeed be celebrated, no-one can be oblivious to their plight.
It's not in any of the holy books. It's just a cultural practice, a bad practice that was adopted. It's just to subject women to so much harm, it's a way of controlling women.

FGM victim
In many places that plight includes the risk of violent bloodshed and physical and psychic harm. In some, it means death.
Girls and young women are sadly still exposed to several forms of violence in 21st century Europe in, namely, forced marriage and female genital mutilation also known as FGM.
It is very difficult to establish exact numbers for forced marriages and FGM cases in Europe, as they are performed in secrecy, sometimes prior to the victims' arrival in Europe and often involving parents as backers or perpetrators. Still, the estimates are staggering.
Take FGM. This procedure involves partial or total removal of the female external genitalia or other injury to the genital organs for non-medical reasons.
Half a million women living in the EU have undergone genital mutilation and close to 180,000 young women and girls are at risk from it every year.
Take forced marriage. In the UK, which is at the forefront of collecting data, close to 1,300 cases are reported each year, a quarter of which involve underage girls.
FGM and forced marriage sometimes go hand in hand as euronews' Damon Embling found out in the UK. There, he met FGM victims as well as other women that only escaped this life-threatening procedure by the skin of their teeth.
Deep goes The Cut
It is a potentially lethal practice that has been going on for generations, mainly in Africa, but also in the Middle East and Asia.
At least 200 million girls and women in 30 countries are estimated to have undergone female genital mutilation, or FGM.
In the UK, FGM is illegal. The exact scale of those affected is unknown – due to its hidden nature. But the British government estimates at least 170,000 women and girls are living with the consequences of having the procedure – and a further 65,000 girls under the age of 13 are at risk.
There are reports of a black market in the UK. Police also suspect girls are flown out of the country to their family homelands for FGM.
Campaigners say the key to eradicating the practice – treated as criminal abuse in the UK – is education.
What is
FGM

?

Female genital mutilation (FGM) is defined as a procedure where genitals are cut, injured or changed – and there is no medical justification.

Some refer to it as "female circumcision" or "cutting."

Britain's National Health Service (NHS) defines four main types of FGM:

Type 1 (clitoridectomy) – removing part or all of the clitoris

Type 2 (excision) – removing part or all of the clitoris and the inner labia (lips that surround the vagina), with or without removal of the labia majora (larger outer lips)

Type 3 (infibulation) – narrowing of the vaginal opening by creating a seal, formed by cutting and repositioning the labia

Other harmful procedures to the female genitals, including pricking, piercing, cutting, scraping or burning the area.
'It's not in any of the holy books'
"I was forcefully pinned down, my legs were spread apart and I felt a sharp cut between my legs. And, at this time, I did not even know what they were cutting, I just knew they were cutting something off my private part," recalled Sarian Karim Kamare, who underwent FGM in her homeland of Sierra Leone at the age of 11, before moving to the UK.
"It was shocking for me because that was the last thing to come to my mind, that sort of violence would happen to me and be organised by my own family."
Sarian, a Christian, says she was blindfolded at a party and, without any sort of anesthetic, her clitoris was removed with a knife.
"They just do that because they feel that I need to be part of the culture and I need to be totally accepted within my community," she told insiders
"It's not in any of the holy books. It's just a cultural practice, a bad practice that was adopted. It's just to subject women to so much harm, it's a way of controlling women, especially your sexual urge.
"And it does work, trust me, because once that's been taken away, it really, really destroys your sexual appetite and things like that."
Uncovering
FGM
English health services have newly recorded the equivalent of 100 FGM cases a week since April last year, when new data collection requirements came into effect.
They are just the ones they know about, and the ones they have reported.
Doctor Brenda Kelly, a Consultant Obstetrician, founded the Rose Clinic at Oxford's John Radcliffe Hospital for patients affected by FGM.
She told insiders that it can cause lifelong health problems.
"If it's a child, they may have pain, bleeding and infection. But the majority of patients that I see are women in adulthood, who have lived through the consequences of it happening. But may also have difficulty passing urine, passing their period blood, having sexual relations with their husband or partner," explained Kelly.
"A significant number of women have lasting psychological, psycho-sexual consequences of FGM, including a significant number, about one in six, having post-traumatic stress disorder or symptoms suggestive of that."
The 'cutting season'
Campaigners say elderly women – typically those who perform FGM – are flown into the UK for the black market.
Police also suspect young girls are taken to family homelands during the school summer holidays, the so-called "cutting season."
Earlier this year, West Midlands police stop checked families and individuals at Birmingham airport during an operation against FGM.
'Am I not a Muslim?'
"My dad's plans were to get me married via Skype and get me circumcised before or after, soon (after) my marriage, before any sexual intercourses with my husband. And the reason why they told me I had to be circumcised was that you're not a good Muslim," said "Zara," whose identity is being protected.
"And then it made me question all sorts of things to (about) myself. Am I not a Muslim?"
"Zara," who was raised in England, came under huge pressure from her Asian father to have an arranged marriage and FGM. It was almost too much to bear.
"There were some days when I would just sit there and think wouldn't it be better if I just not stay, or live any more," she told insiders
So many women and girls, like Zara, often suffer in silence, both in the UK and elsewhere. They're terrified of going against their family and their communities.
But Zara was eventually saved from her father's plans. She spoke out and the police got involved.
A joint FGM and Forced Marriage Protection Order was issued, meaning anyone who pressures Zara will go before the courts.
Zara's father also faced the prospect of criminal charges, but she told insiders that she couldn't go through with them.
"I want to give a message. At the same time, I want to have a life too. I don't want to lose my dad, cos (because) he's been there for me throughout my life, being my best friend, would listen to me with everything," she said.
"And I lost my mum's contact at a very young age. She had some really bad mental problems. So he's the only person I would just run up to and talk to. So I didn't want to lose that."
Changing thinking
Karyne Tazi works for the Women and Families Resource Centre in Wolverhampton, central England – a charity which works with communities to eradicate FGM:
She says it is all about educating mothers who have undergone it themselves.
"A lot of the time it's about changing these women's mindset, challenging the way they think and making sure that this doesn't pass down to the next generation," she said.
"Because these women are probably the ones who are going to be having it done to their daughters and so it's about showing them that this is a form of abuse and it's illegal."
Charities also take their education drive to schools in the UK.
Ineffective laws?
FGM has been illegal in Britain for over 30 years and parents can be charged if they take their children abroad for it.
But despite a tightening of the laws, there has not been a single conviction for FGM in England and Wales to date.
"Some of the difficulties surrounding that are we have immigrant populations, where English is not necessarily their first language, and it's the women's place within those societies as well, isn't to stand up and speak out. These are very personal issues that quite a lot of these women haven't even spoken to their children about," said Inspector Wendy Bird, from West Midlands Police.
"What it does, the legislation, when people know about it, it helps empower victims to be able to say no, it helps empower parents to say to the community back home or the communities here, no it's not acceptable, it's against the law, if we do this, we will be prosecuted."
'I was helpless… Now, I have more power'
"Zara" told insiders that women and girls must find the confidence to speak up.
"Back then, I was helpless, I was thinking that I won't have a life and I was thinking I might end up being a slave to some man. But now I've been taught what I could do and couldn't do, what, I would say, could do. I feel like I have more power," she said.
"The message I would say is that it might feel really hard to come out and speak against their family, but at the end, it will be a beautiful message to them, a beautiful life they've been given."
Love for sale
Belgium was one of the first and remains one of the few countries in Europe to have made forced marriage a specific criminal offense. Valerie Gauriat brought back this report.
Chimène, from Togo, and Rokia, from Guinea, met in a Belgian refugee centre. They fled their countries to escape forced marriages.
Obtaining asylum in Europe, they say, is a matter of life or death.
Rokia did not yet know that her request would come through only a few days later.
"When my dad died, I was married to a friend of his" she explains. "Because the man is a diamond dealer, he has lots of money, they sold me to him. I was the man's third wife. I underwent FGM a first time when I was a child. And a second time when I was twelve. He wanted me to go through this a third time, I said no! Because I know the harmful effects of FGM. The man beat me up, he tortured me, even to make love with him, because I did not want him! He kept beating me. In my country, my life is in danger, because I disobeyed the family."
Chimène's story is also dismaying. Her boyfriend helped her escape from Togo before her family could force her to marry another man, twice her age. But harm was also done.
"I have a son, who's 2 years and 3 months old; it would be difficult for me to go back home because his dad there wants to take him, and I don't want that to happen. His life will be at risk if he goes back to our country," she says." And she adds, unflinching: "The father's the man
who wanted to marry me after he raped me".
By speaking to us openly, Chimène and Rokia are taking a big risk.
But they want to testify to end the practice of which they were victims.
They were members of the cast in a play, shown that day in the city of Liege, at a seminar on the issue of forced marriages.
Belgium is one of the first EU countries)556926_EN.pdf to have specifically criminalized forced marriage.
New Abuse Figures: #ForcedMarriages in #Germany More Prevalent than Thought: http://t.co/rfFjWi5b

— Forced Marriage (@ForcedMarriage) November 28, 2011
But it is difficult to stem the phenomenon, says the coordinator of the Liège platform on forced marriages and honor-related violence.
"I have very very few victims who will file a complaint, or expect anything from the law." she points out. "There are virtually no figures for forced marriages and honor-related violence because people don't file complaints. They are afraid to hurt their families, they are afraid of having their parents sent to prison, to be responsible for the financial collapse of their families, to see their brother or sister put in foster care," says Leila Slimani.
It was under family pressure that Amina agreed to a marriage arranged by the Imam of her Brussel's neighbourhood's mosque, with a total stranger, who was then living in Morocco.
As a Belgian citizen, Amina was his passport to Europe.
That was 20 years ago. She was able to divorce after years of proceedings, but the wound is not healed
"It follows you a very long time. It did not stop because he left. The man contracted debts. Also, his name was on the house, and I continued to pay this credit. I finally ended up with a lot of problems." she says.
"Were you able to rebuild your life?" asks our reporter Valérie Gauriat.
"No. To be honest, I never married again, that's clear. I believe a marriage is a marriage. Even if there are people who get married two or three times, it's not the same anymore", she whispers, in tears.
Halina Benmrah hears of stories like this every day.
She heads an association for victims of forced unions or marriages of convenience; too often, they do not know where to turn she says.
"Unfortunately, for most people who call, I would say it is too late, the marriage has already taken place. On paper, there are many things available. But in practice, there is nothing for the victims, nothing, at all, I'm sorry. Nothing. And sometimes, I can also say, the person is not even aware, does not even know where to get information," says Halina.
Policing the problem
Professionals from different fields are nonetheless trying to develop ways to tackle the issue. Anne-Sophie Vallot is a police chief inspector in Brussels, specialised in youth and family affairs.
She is often called by the associations when forced marriage victims are in crisis situations.
Like that day, at "The Voice of Women" association.
Maria Miguel-Sierra, the head of the association, tells Anne-Sophie of a call she just had that morning, from a young woman fearing to be sent abroad within days, to be forcefully married.
"I'll try to see if I can meet her face to face. Because she did not want to leave her phone number, nothing at all. She really wasn't well at all," explains Maria.
"We did our own research, and yes, there have been complaints previously," confirms Anne-Sophie.
"She really needs psychological help," suggests Maria.
Anne-Sophie follows on to tell us:
"We, at the police level, mainly see the victims in cases of intra-family violence. And there we see that very often there is a forced marriage behind the situation. At the start, there's a forced marriage, and we can see the consequences of that.
We see the consequences, which are rape, repeated rapes with violence, serious violence, extreme violence!And finally, only when the girl can't take it any more, and it's a matter of life or death, she knocks at the door of the police, seeking help," says Anne Sophie.
Fighting #Forcedmarriage in the #UK. https://t.co/xbEuUTY6Ep

— Golda M (@HeartofGolda) 13 octobre 2016
The Voice of Women and some 15 other Brussels associations have organized a network to coordinate and develop their approaches.
An emergency call number has been set up for victims of forced marriages. The associations also want to increase awareness among professionals and the public, especially in the most affected communities.
"Belgium is a country that welcomes, often through family reunification, new migration flows. So it's not surprising to see that when girls arrive in the country at a very young age, a few years later, the issue of marriage will arise." points out Maria Miguel-Sierra. "People come with a set of values, with a vision of what the family should be. Such views do not change overnight."
A matter of time, but also of prevention, especially among those youths at risk of being exposed to forced marriages, which sometimes lead to tragedy.
Informing them can also help them break the silence.
"My advice to the girls, would be to dare talk about it" concludes Amina. To go knock on a door .. No matter who, whether a friend, whether a neighbor, whether in school, whatever. But they must speak out."
Turning the tide of abuse
To conclude this special report euronews' Sophie Claudet sought out an acknowledged French expert and campaigner on both FGM and forced marriages, Isabelle Gillette-Faye. For her, a global approach is vital and it is critical for the EU to build on established succesful policies, if they exist.
Sophie Claudet :
"Could you briefly sum up the cultural origins of female genital mutilation?"
Isabelle Gillette-Faye :
"We can trace this practice back to the sixth century B.C., so before the Jewish, Christian or Muslim faiths. However it really took root and developed in eastern Africa , the Nile region, and then spread, notably to central America and west Africa.
The ritual was initially above all about female fertility or better harvests, so these were essentially animist rites."
Sophie Claudet :
"Forced marriage is punishable under criminal law in a dozen European countries only. Is punishing this crime enough? Should other countries punish it as well?"
Isabelle Gillette-Faye :
"If we want to change the global behaviour of the populations that are directly concerned you need two things in tandem. Preventive measures for the adults, and for adolescents, both male and female, sensitization and, if the message doesn't get across, repressive measures should then be used."
Sophie Claudet :
"Are there any EU countries that provide us with a successful model for fighting against forced marriages or FGM?"
Isabelle Gillette-Faye :
"France is one country recognised as having been working on the problem of FGM for the longest; right at the start of the 1980s there were prosecutions, public information campaigns and training of professionals, so in thirty years a tight tissue of state and volunteer associations has grown up.
For forced marriages I think Britain is a very good example because they set up things very early, like for example a dedicated police unit with the power to intervene at UK airports to stop young girls at risk of forced marriage from leaving.
There were also sensitization and information campaigns, telephone hotlines for people in danger were set up, and safe places to stay."
Sophie Claudet :
"Among the women entering Europe today some are coming from zones where forced marriage and FGM is common. Are the new waves of migration going to give fresh impetus to these practices? Do we need new targeted information and sensitization campaigns for these communities?"
Isabelle Gillette-Faye :
"In any case every new wave of immigration obliges us to think about womens' rights, violence, and how to act to protect eventual and potential victims.
The starting point has to be the information you have on the ground.
Did their counties of origin already have prevention, sensitization and information policies? Had prevention and protection strategies been applied? This is important because for them to work EU nations need their policies to be tailored and adapted to theirs, if they exist."
Live updates from our Insiders team