European Brexit tour begins for Angela Merkel
Comments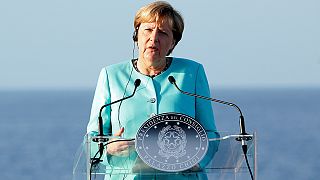 Earlier this week, the 'big three' leaders Francois Hollande, Angela Merkel and Matteo Renzi promised the EU would survive Brexit as they met on the Italian island of Ventotene, where one of the founding fathers of the European Union Altiero Spinelli is buried.
After symbolically laying a wreath on the grave of the man who wrote a manifesto for a 'free and united Europe', they discussed more cooperation on security and defence as well as the EU response to the Brexit referendum in the UK.
Although the three countries put on a united front, most European countries are still divided on how to react to the Brexit referendum in the UK and how to counter mounting euroscepticism. On 16 September, they will meet for the first time without the UK in the capital of Slovakia.
To prepare for this summit, and the EU stance, the German chancellor will spend the next six days, traveling to six cities to talk to EU leaders as well as Britain's Prince William.