Eurozone finance ministers mull sanctions for Spain, Portugal
Comments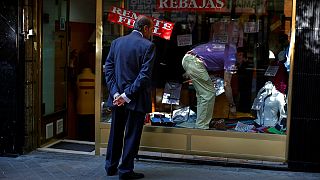 Eurozone finance minister met on Money to discuss whether Spain and Portugal should face sanctions for breaching EU spending rules.
Last week, the European Commission said both countries had failed to take sufficient action to close their budget deficits.
According to the rules, countries should not a budget deficit of more than 3 percent of GDP.
But those rules have been repeatedly broken; overspenders have never faced any penalties, much to the annoyance of the eurozone's fiscal hawks.
Portugal slashed its budget deficit from close to 10 percent of GDP in 2010 to 4.4 percent last year, while Spain last year reported a deficit of 5.1 percent.
French Finance Minister Michel Sapin told reporters that Portugal "doest not deserve excessive discipline", praising the efforts Lisbon had made in recent years.
If ministers endorse the idea of sanctions, which could include fines, Spain and Portugal will then have 10 days to make further arguments against any punishment.
"For both countries it is true that there are budgetary issues and they still need to be resolved. So the question really is: what more can these countries do? How much time is needed to sort out the budgetary problems?," said Jeroen Dijseelbloem, the Dutch finance minister and current chair of the Eurogroup.