Daring Russia, nervous Europe: ghosts of the Cold War haunt NATO
Comments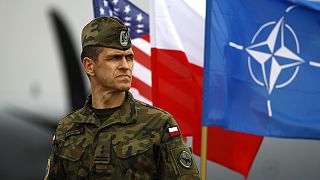 Are we seeing the dawn of a new Cold War?
Some European countries fear that post-Soviet Russia wants to carve out more territory for itself after it annexed Crimea from Ukraine in 2014.
NATO has voiced concern over Russia's large military exercises held near Ukraine's borders. But Moscow objects that the Alliance undertakes similar exercises close to its own borders. In fact, it has called NATO an aggressor.
The conflict in eastern Ukraine is ongoing – despite a ceasefire – and has claimed more than 9,000 lives over the past two years. It seems both sides are at fault: Ukrainian troops and separatists backed by Russia. Sergio Cantone brought back an exclusive report from the frontline, on the Ukrainian side.
Baltic states also complain that Russia is conducting military exercises near their borders and its military aircrafts are violating their airspace. NATO is set to deploy new troops in the region to deter any attack, and Lithuania has restored compulsory military service. Hans Von der Brelie traveled there and spoke to this new generation of conscripts, eager to defend their small nation when their own parents used to fight for the Soviet Union.
To better understand the geopolitical tensions gripping Europe's east, Sophie Claudet also spoke to Lamberto Zannier, secretary general of the Organisation for Security and Cooperation in Europe (OSCE).
Live updates from our Insiders team