Fragile ceasefire on Ukraine's frontline
Comments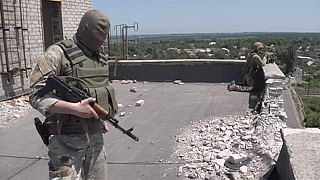 From the rooftop of an uninhabited, half-destroyed building a contingent of Ukrainian paratroopers watch the frontline of pro-Russian controlled Donetsk. It is situated in Avdiivka, an industrial town in the middle of the buffer zone where shelling between Kyiv's forces and pro-Russian separatists has gone on unabated for the past two years – despite a ceasefire established by the Minsk agreement.
This is the beginning of the new Cold War

Croatian fighter
The commander, who mans the rooftop and whose nom de guerre is "Sergey", explains the strategic value of the territory just a few kilometres in front of us.
"The bypass road from Donetsk and Yasinovataya goes to Gorlovka. Naturally, that is an important transport route. The other side, the enemy, says that we want to capture it. Although in reality, we just advanced in order to ensure the safety of the citizens," Sergey says.
The paratrooper then points to a nearby building, still inhabited by people.
We speak to one of them, Alexei, who has defiantly begun to renovate his apartment – despite the fact it could be damaged or even destroyed at any moment.
"Now we want to change the wallpaper and the linoleum. Before the war, we did not have time for this," Alexei calmly states as he stands in his kitchen.
"When Poroshenko was coming to power, he said that the war will be ended in a month. That is his word, but he became a president, now it's the third year, and the war is not over," he adds, referring to a Ukrainian oligarch who is now the president.
In 2012 Forbes magazine placed Petro Pereshonko on its list of billionaires, making him Europe's wealthiest leader, even taking into account the post-war fall in his investments.
We catch up with the paratroopers who have agreed to take us to the main flash-point. From there soldiers can hold and check the movements of pro-Russian forces and hinder their movements along the main road. Both sides constantly exchange fire, often mortar shells, and sometimes heavy artillery and Grad rockets.
But the area we are trying to reach is being shelled at the moment. Our convoy is forced to stop halfway at a Ukrainian outpost, a former tractor mechanic's workshop. Staryi, another Ukrainian fighter, tells us small arms fire and mortar shells are usually targeted at them in the evenings.
We get word that the shelling has stopped and resume our journey to an area called the "Crater," close to the road between Gorlovka and Donetsk. It earnt its name after more than 300 shells landed there, many of them making small craters in the ground.
Back in Avdiivka we go to the market to talk to shoppers and gauge how civilians are coping,
Before the war the town was home to 35 thousand people – now at least half of them have left, mostly the young. Many here don't understand the reasons for this war. Surprisingly there are no visible shortages of food in the market.
One woman, Valentina, expresses her outrage at Russia, but also disappointment with her own politicians whom she believes are ignoring them.
"Civilians have died, poor soldiers are being killed. So is this the way we must join Europe? (by walking) over the blood? We want to be in Ukraine, in a peaceful Ukraine, as before, we do not need Russia. But let all the MPs come here and see how we live, she says.
Most of Avdiivka's residents work at the Metinvest Coke Plant which is vital to Ukraine's output of metal so we visit it. Two years ago production was stopped by the fighting and the price of coke increased by 20 percent. The plant is a war target too.
Last year Viktor Kruglenko tells us of the horrifying moment when he saw his 25-year old son die when he was hit by a mortar shell at the plant whilst they were working together.
Other workers tell us that the factory is still occasionally hit by light artillery.
Further South, by the Azov sea, in the rearguard of Mariupol's front line, we meet volunteers of the Azov Regiment. Iaromir is a Russian from Stavropol who, along with a few fellow countrymen, took up arms against the pro-Moscow insurgency on the side of Ukraine.
These Russian nationals say the Ukrainian war is not about ethnicity, but about defending democratic values against what they denounce as an autocratic Russia. At least twenty Russian citizens are fighting in the ranks of the Azov regiment.
"The Russian world, which is presented by Putin's administration, it has nothing to do with Russians, I think so. We are not fighting against Russians, but against things they've done on the territory of modern Russia," Iaromir says.
The Azov regiment consists of volunteers, including foreign fighters, and is controlled by Ukraine's interior ministry. Iaromir's brother in arms Dennis Sheller is a Croat who fought against the Serbs in the Balkans more than 20 years ago.
"This is the beginning of the new Cold War. And Putin just wants to take a good position in that new war. I think that the whole Europe and whole free world need to support this side, my side, I mean, Ukraine." he states.
The Azov regiment is controversial in Ukraine and abroad; its detractors say it is a mercenaries' haven with some Nazi orientations, whereas others contend that Azov fighters are merely standing up to Russian President Vladimir Putin's expansionism.
But when asked if he is in fact a mercenary Dennis laughs.
"Yesterday I received my salary for February. And my salary for February is exactly 6000 hryvnias, that is 220 euros. So if I am mercenary, OK. In past life in Croatia I spent 2000 euro in one night," he says.
Fighting between government forces and Russia-backed separatists has killed more than 9,300 people in eastern Ukraine since April 2014.
Under a cease-fire agreement reached last year in Minsk, the Belarusian capital, both sides pledged to pull back heavy weaponry as well as take other steps toward a peace settlement.
Live updates from our Insiders team