OSCE chief on East-West tensions and faltering dialogue
Comments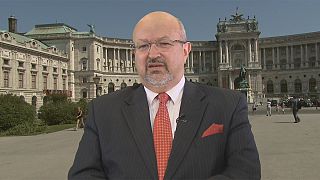 Sophie Claudet spoke to Lamberto Zannier, secretary general of the Organisation for Security and Cooperation in Europe (OSCE). Below is a transcript of his interview:
Sophie Claudet, euronews:
Is there a real threat of descending into a new Cold War, or war, or is it just muscle-flexing on both sides – Russia and NATO?
Lamberto Zannier, secretary general OSCE:
"I would not say that we are in a new Cold War. But in fact we are facing a very complex security situation. On the one hand we do have conflict in the heart of Europe, and that's very worrying of course. And this conflict is risking to create an escalation in the confrontation between East and West. At the same time, there are parts of the international agenda where we see close cooperation – if you look at the fight against terrorism. Here recently in Vienna we had a decision on cybersecurity."
Sophie Claudet, euronews:
But Poland, as you know, is worried. So are the Baltic states…
Lamberto Zannier, secretary general OSCE:
"We do see that Russia is in a way reacting also to the expansion of the Euro-Atlantic institutions with the creation of its own space, in a way, around Russia – through the CIS, through the Eurasian Economic Union, etc. The logic is a logic of pushing, in a way, strengthening also the military tools and the risk of an accident that may generate into a crisis. We've seen it in Syria with the Russian jet being downed by Turkey. These incidents always have the potential for escalation. What worries me is that during the Cold War we had here at the OSCE, developed a number of tools governing military-to-military relations, disarmament, confidence-building measures that were agreed on both sides. The effectiveness of these tools has now been eroded. It is very difficult to update them because the dialogue has become more difficult. And therefore we don't have a safety net as effective as we used to have during the Cold War."
Sophie Claudet, euronews:
Your organisation, the OSCE, is in charge of monitoring the ceasefire in eastern Ukraine. We've seen in our report that it is not holding: why is that?
Lamberto Zannier, secretary general OSCE:
"One of the things we are trying to engage is de-escalating the situation on the ground, because we see constant violations of the ceasefire. I would say they've become systematic at this point. Partly also as a result of the fact that the front lines have moved much closer to each other. In some cases they are just over 100 metres. And therefore this creates conditions for a continuing exchange. So we're trying to have a disengagement along the whole line of contact, that remains a key priority for us, because that would also then create better conditions for progress at the political level."
Live updates from our Insiders team