'I'll miss drama of European Parliament', says UKIP's Farage
Comments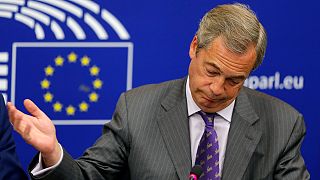 UKIPMEP Nigel Farage took questions from the media on Wednesday after announcing his resignation as the leader of the party.
His former deputy, Paul Nuttall, is widely tipped to take over from the ex-commodities trader at the head of the party.
But Farage says he will stay on as an MEP until the end of his mandate in 2019.
"I shall miss it enormously. I've had an absolute whale of a time. I shall miss the theatre, I shall miss the drama there's been inside the European Parliament," he told journalists.
"I'll miss being the pantomime villain. I've just so much enjoyed them all booing at me and shouting. It's been wonderful."
The 52-year-old tried and failed to win a seat in Westminster seven times during his career as a politician; he was first elected as an MEP in 1999.
He will, however, remain as the leader of the eurosceptic group in the European Parliament. It means that he will still be granted extra speaking time in the chamber.