EU's Tusk tells UK no 'a la carte' access to single market
Comments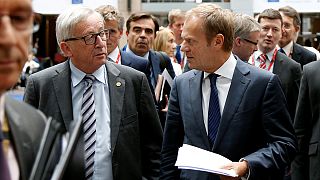 Britain will not be able to have an 'a la carte' relationship with the EU if it wants access to the single market, EU officials said on Wednesday.
The comments by European Council President Donald Tusk and European Commission president Jean-Claude Juncker came after British Prime Minister David Cameron made his last appearance at an EU summit.
Cameron was in Brussels on Tuesday to inform fellow EU leaders of the consequences of the referendum vote.
But the remaining 27 countries met informally on Wednesday to discuss their next moves.
"We agreed that every country that wants to participate in the internal market, that wants to trade in the internal market, has to respect fully the 'four freedoms', particularly the free movement of people," said Juncker, a former prime minister of Luxembourg.
That was echoed by Tusk during a press conference earlier on Wednesday.
"Leaders made it crystal clear that access to the single market requires acceptance of all four freedoms – including freedom of movement," the former Polish premier said. "There will be no single market a la carte."
Meanwhile, German Chancellor Angela Merkel warned that Britain could not start negotiating its post-Brexit relationship with the EU until it triggers the bloc's exit clause.
"We want to underline again, that there will be no negotiations, before the UK ends the formal notification that it wants to leave," said Merkel.
EU officials are worried that the UK exit could encourage other countries to leave if they receive favourable terms.
euronews correspondent Isabel Marques da Silva said the remaining 27 want to tackle euroscepticism by addressing issues such as migration, security and jobs.
These topics will be at the top of the agenda at another informal meeting of those 27 government in September in Bratislava, our correspondent adds.