UK's Cameron faces EU leaders after Brexit vote
Comments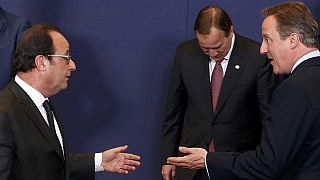 Some in Brussels say that David Cameron was never very much in love with Europe.
But now the British Prime Minister is preparing the country he leads for a divorce from the EU.
Cameron announced that he would step down on Friday, just hours after the referendum result was announced.
"While, we're leaving the European union, we must not be turning our backs on Europe," he told reporters in Brussels.
"These countries are our neighbours, our friends, our allies, our partners – and i very much hope we'll see the closest possible relationship in terms of trade and cooperation and security."
Donald Tusk, the head of the European Council, also acknowledged the long-term reluctant partners were heading for a split.
But he said that the UK must trigger the EU's exit clause – Article 50 of its own treaty – before talks can begin.
"I would like to underline very very clearly: without the notification from the UK, we will not start any negotiations on the divorce process or on future relations," the former Polish prime minister said.
The vote has handed EU leaders yet another crisis to solve; Brussels has been wracked by a series of crises in recent years, including Greece and Ukraine.
euronews' Isabel Marques da Silva reports that there was "a lot of emotion and contradictory feelings" at the summit in the Belgian capital.
She says this is unprecedented territory as it is the first time that the EU would be saying 'goodbye' to a member state.