Representative democracy is 'a bit rusty'
Comments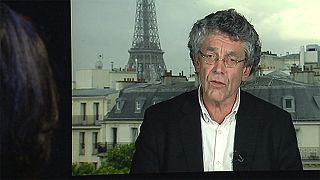 For more insight on the citizen's movements mushrooming across Europe, we spoke to Albert Ogien, a French sociologist and senior researcher at the French National Centre for Scientific Research (CNRS) in Paris.
In the same way that Nuit Debout wasn't born when people started occupying the place de la République, it's not going to disappear the moment there's nobody left on the place de la République
Sophie Claudet:Beyond France and Spain, there have been other citizens movements in other European countries. Could this gain momentum?
Albert Ogien: "The fact that the party system – the system of representative democracy – after about 70 years of peaceful existence since World War II, is a bit rusty, means that citizens don't always recognise themselves in the way their governments govern. It's a very general phenomenon in Europe. And there are places where this aversion to the bad functioning of representative democracy has already led to the creation of parties that are now vying for power. That's the case of Podemos, Five Stars or, in a different way, Syriza in Greece.
Sophie Claudet:Why isn't Nuit Debout bringing together as many people as what we saw in Spain back in 2011? Is it losing steam?"
Albert Ogien: "It's a surprise it came to exist the way it did, gathering crowds that weren't as big as in New York, London or in Spain. And once again the difficulty is to call it a movement. It's just something that happened, a sort of event, a sort of gathering somewhat organised and somewhat spontaneous, but that in fact stems from various initiatives that citizens have been taking all across France for a couple of years now to debate political questions. So in the same way that Nuit Debout wasn't born when people started occupying the place de la République, it's not going to disappear the moment there's nobody left on the place de la République. The people who used to be in think tanks, activism, advocacy, in all kinds of protests, in all kinds of places in France, will simply return to their protests, their advocacy, their actions. So the fact that the movement no longer exists as a movement that's visible to the media certainly doesn't mean that the people who want political change are no longer working towards that change."
Live updates from our Insiders team