Nuit debout: Power to the people of France
Comments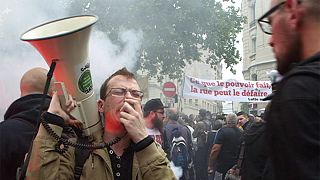 In Paris, an all-too familiar sight. Demonstrators take to the streets in protest.
For me, Nuit debout is the citizens who take back the control.
Their target: a new labour law said necessary to create jobs. Opponents argue it threatens them.
Anger over this law has produced a series of protests and strikes aimed at bringing President Hollande's socialist government to its knees. It's also produced a new movement that calls itself Nuit debout or "At Night on our Feet".
euronews: "You've been waiting for this moment for three years?"
Sophie Tissier, Nuit debout's citizens' movement: "Nuit debout represents the people who have become aware that the political system doesn't work anymore, and that it's up to them to take back the political reins."
Helena Aujames, Nuit debout's citizens' movement: "There are many people who believe that the power of the Nuit debout movement is that it's an "agora" – where public speech becomes public once again."
Another familiar site: confrontations between anarchists and riot police at the end of the demonstration. It's a violent message but one nonetheless of growing frustration in France's current social climate that laws are being passed without listening to the people.
After the demonstration, euronews caught up with Nuit debout at their "headquarters" at Place de la Republique – the site they've occupied since March 31.
For this Nuit debout member, clashes at the end of the protest don't surprise him.
Jules Ragueneau, Nuit debout's citizens' movement: "These violent movements are inherent in all demonstrations. I've done a lot of protests and there are always these type of movements at the end. It doesn't particularly worry me."
For Jules, like other Nuit debout militants, this is what is important: giving a voice back to the people.
Everyday there is a general assembly where anyone can speak and voting is done by a raise of hands or a turn of wrists. Today the discussion centers around the protest and ongoing strikes. But there are also other committees and commissions focusing on a wide range of topics.
Jules Ragueneau, Nuit debout's citizens' movement: "Nuit debout is a horizontal movement, where everyone is equal. There is no bonus for those who have been here the longest. There are people who have been here since the start, some arrived later and some are still arriving. It's just a fact and it's not what determines who is the most important here."
A movement of the people where everyone is equal, and all ideas are welcome. And since it began two and a half months ago, Nuit debout has mushroomed where almost anything or anyone can "stand on its feet".
At the Place de la République, there is an orchestra on your feet, there's ecology on your feet, there's anti-trade on your feet. There are commissions and committees where everybody has a say. But without a leader or political agenda, can Nuit debout really have a social impact?
To find an answer to this question we went to Nuit debout in Marseille to talk to François Ruffin. He is editor of a radical-left newspaper called Fakir and also one of the creators of this new citizens' movement – a movement many say was motivated by his film Merci Patron or Thank you Boss.
Thank You Boss is a modern David and Goliath story where Ruffin takes on France's richest man, Bernard Arnault, to help a couple who lost their jobs when their textile factory was relocated to Poland.
Arnault is head of the luxury goods group LVMH. With the couple facing the loss of their home, Ruffin devises a plan for the group's boss, Arnault, to give them money.
The film's message of righting the wrongs of social injustice helped launch the call for a new citizens' movement:
But Ruffin said the Nuit debout was not a spontaneous movement.
La France vue du ciel #ArthusBertrand#NuitDebout#ByeLoiTravail#manif14juinpic.twitter.com/aYGL97IqbU

— Nuit Debout (@nuitdebout) 14 juin 2016
Francois Ruffin, activist and filmmaker: Throughout the pre-release screening of the film Thank You Boss, you felt there was a lot of energy in the cinema and that at the end of the film people were asking, what can we do? And then someone said look, at the end of the next demonstration against the Labour Law, let's occupy a square. And on the 31st of March, that's what happened and the place de la République was occupied and this occupation started, by the way, with the screening of Thank You Boss.
Nuit debout quickly spread its democratic wings to other French cities and even beyond its borders.
For this Nuit debout member in Marseille, it's all about the people.
Kamel Bendjeguellal, Nuit Debout citizens' movement: "For me, Nuit debout is the citizens who take back the control. So with these citizens here we have novels, theatre pieces, there is the film, Thank You Boss, everyone participates, everyone is here. There is "lawyers on your feet", lots of little things are happening. But I think that this world here, the intellectual one, needs to converge with the social world. It's the most important."
Francois Ruffin, activist and filmmaker: "Me, I am for taking politics one step at a time, but I know how many times there is this feeling of powerlessness. The first thing is to show that sometimes we can win and that's what we see in the film. It shows that we can win and against those who are powerful. Then people will say to themselves, well maybe we are stronger than we thought, and maybe they are weaker than we thought. The idea is to do this on a much larger scale and that's what is being tried in this fight against the labour law."
Taking politics one step at a time to win a social battle that has been brewing for a long time in France.
But despite the fun atmosphere, there is a reality check: can the battle be won without a political party?
Since it started, Nuit debout has been compared to other movements such as Occupy Wall Street but especially to los Indignados in Spain which went on to form a political party, Podemos.
Gael Brustier followed Nuit debout for several weeks and has written a book about this movement.
euronews: Does Nuit debout need to have a French political party like Podemos?
Gael Brustier, author Nuit Debout: "There are some in this movement who think a political party like Podemos is the worst thing that could happen to Nuit debout. This is because at the heart of Podemos are the new radical-left political parties which have betrayed the spirit of the Indignados. In other words, one can change the world without taking power. Any aspiration of taking power is, by nature, a betrayal of the revolutionaries. There are others who believe the opposite: that the only way to change things is to enter into these institutions."
Despite the citizens' outcry, the new labour law is expected to get its final government seal by the French Senate early July.
Nuit debout has vowed to occupy the Place de la Republique until then and even after. But some worry that Nuit debout has seen its "moment in the night" and maybe it's time that it goes to bed.
Helena Aujames, Nuit debout: "I don't know if Nuit debout will continue or not. I don't know how it will end or when. I just know that whatever happens after this, there will have been this experience which has allowed people to realise that they have something to say. That they have something to invest in the world of politics and it's not something private. Even if Nuit debout fails, there will be other disputes in the future. People will remember what happened here and remember that they have power as citizens. So whatever happens to Nuit debout in the days or weeks to come, we'll have accomplished this."
Giving power back to the people, and especially a voice.
Something Europe's latest citizens' movement hopes their politicians will hear loud and clear.
Live updates from our Insiders team