German workers protest over China steel 'dumping'
Comments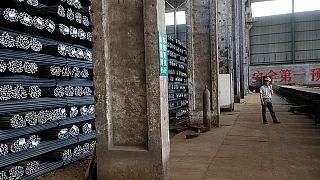 German steel workers have protested outside the European Parliament over alleged dumping by China.
They oppose China being declared a market economy under the World Trade Organisation.
"China produces steel with public subsidies, far below the actual costs of production and without consideration for the environment and on-the-job safety," one worker told euronews.
Some parliamentarians fret that China threatens jobs; MEPs have called for safeguards.
"Look what happens in their steel sector: Beijing decides that will close capacities and they close capacities. so it's not a market economy, it's not market forces that are really driving the Chinese economy," said Philippe Lamberts, a Belgian Green MEP
Gaining market economy status would mean that the EU would have much less scope to impose tariffs on Chinese products