Google hit with EU anti-trust charge over Android 'dominance'
Comments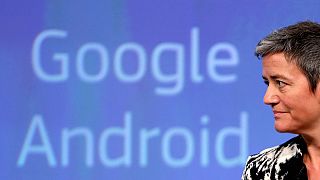 The European Commission accused Google on Wednesday of unfairly trying to crush rivals to its Android smartphone operating system.
Marghete Vestager issued a statement of objections against the US tech giant in which she said it has "pursued an overall strategy on mobile devices to protect and expand its dominant position in internet search."
The European Commission could fine the company ten percent of its annual turnover.Last year, that figure stood at just under 75 billion dollars, or 65 billion euros.
The company has as long as 12 weeks to respond to the EU executive's allegations.
Vestager, a former Danish finance minister, said the US tech giant was placing "unjustified restrictions" on manufacturers and operators.
"Based on our investigation thus far, we believe that Google's behaviour denies consumers a wider choice of mobile apps and services and stands in the way of innovation by other players, in breach of EU antitrust rules."
It is the second anti-trust case that the European Commission has opened against Google in recent years; it launched an investigation into its search engine business in 2010 and the case is still ongoing.
Kent Walker, Google's senior vice-president and general counsel, said in a statement that the company looked "forward to working with the European Commission to demonstrate the careful way we've designed the Android model in a way that's good for competition and for consumers."