MEPs ready for airline data share vote
Comments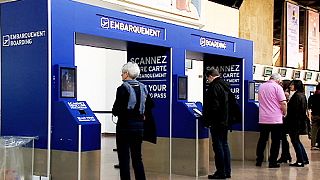 MEPs could be about to force airlines to share air passenger data.
The vote will be held in the European Parliament on Thursday.
French Prime Minister Manuel Valls was in Strasbourg on Tuesday to lobby for the approval of the so-called Passenger Name Record.
"Nobody has ever said that PNR would have prevented attacks," he told reporters.
"I see the European PNR as an additional tool which we need in order to be efficient in our fight against terrorism,"
The draft law has been blocked by MEPs for years over data protection concerns.
Timothy Kirkhope is the British Conservative who steered the bill through parliament.
"These (data protection) standards are of the highest level and probable will make sure that information about the people is better protected in individual countries as well as in the exchange between the countries than it has ever been before," he told euronews.
Some parliamentarians have argued this proposal is being rushed through after the Brussels attacks.
Experts questions whether it would make any difference at all, report euronews' Sandor Zsiros from Strasbourg, France.
It follows a debate stretching over many years at the European Parliament whether to accept these US style security measures, our correspondent adds.