European rights body accuses Polish government of undermining democracy
Comments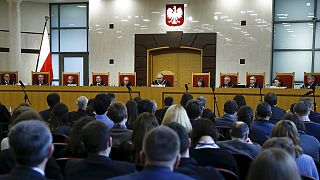 A European rights body has accused Poland's conservative government of undermining democracy.
Legal experts at the Council of Europe, a non-EU body, said changes made to the country's top court would hamper how it operates and endanger the rule of law.
The new rules say two-thirds majority is needed for judgements to be adopted.
"The requirement of two thirds majority for adopting judgements and a strict rule making it impossible to deal with urgent cases, especially in their combined effect, would have made the Tribunal ineffective," the panel of experts, known as the Venice Commission, said in a statement.
"Therefore, these amendments would have endangered not only the rule of law but also the functioning of the democratic system."
But those comments have already been rejected by the government in Warsaw.
"We are ready to treat all constitutional recommendations in a very businesslike way . But some recommendations, which are outside the mandate of the Venice Commission do not bring anything new to the dispute," said Deputy Foreign Minister Konrad Szymanski, who took part in the commission's plenary session.
The Venice Commission is the Council of Europe's advisory panel on constitutional legal matters.
The governing Law and Justice party says the changes are needed to reflect Poland's new political reality.
It won a landslide victory in last year's general election.
The European Commission will decide in April if Poland will face any punishment for breaching the EU's rule of law standards.