Brexit: EU deal for Britain still elusive after late-night talks
Comments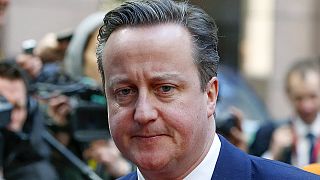 Leaders talked through the night in Brussels, but no deal yet for Britain on its EU reform demands.
It seems British Prime Minister David Cameron is facing a tough fight.
"We made some progress, but there is still no deal and as I have said, I will only do a deal if we get what Britain needs," Cameron told reporters.
"So were are going to get back in there, we are going to do some more work, and I will do everything I can."
A deal would pave the way for Cameron to return to London and campaign to for Britain to stay in the EU, ahead of a referendum on membership.
According to polls, voters are divided right now.
"During the night there were some proposals exchanged between us, notably concerning France," said French President Francois Hollande.
"There is the will to have a financial regulation which can be applied to all financial capitals of Europe, and there is no right to veto."
Financial safeguards and migrant curbs have been the most contentious issues.
Officials and diplomats were looking at reworking a draft agreement before the leaders regrouped for more talks today.
The original plan was to serve up proposals over an English breakfast. It could now be an English dinner.
Reporting from Brussels, euronews' Sandor Zsiros said: "According to leaked information, the British prime minister had new demands about EU migrant benefits and this could make a deal even more difficult.
"But if they reach an agreement despite this, there might be an extraordinary government meeting today in London, where the referendum could be announced."