Thousands of steel workers descend upon Brussels to defend Europe's struggling steel industry
Comments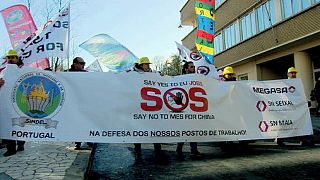 Steel industry workers from all over Europe flocked to Brussels Monday to ask the European Commission to stop cheap Chinese steel from being dumped across the EU.
Protesters want to stop the EU from granting market-economy status to China afraid the move would make it harder for European companies protect themselves from cheap Chinese exports.
Speaking to Euronews, Andreas Goss the CEO of Thyssenkrupp Steel Europe said, "China has a massive overcapacity, it is in fact so huge that it could supply the USA, EU28, Russia plus all the other states with steel. So they have a huge overcapacity, so that is why they are dumping. "
Europe's steel industry has seen thousands of job losses lately, but steel imports from China have doubled in last two years.
Italian MEP Antonio Tajani wants China to play by the same rules as Europe. Speaking to Euronews, the former commissioner for industry said, "we need to respect the same rules. It is important to play football 11 against 11 here and 9 against 13 in China. For this we need to respect the same rule and we need to delay this MES (Market Economy Status) ".
EU Commission president Jean Claude Juncker met with leaders of the unions in person, something that does not happen very often at protests in Brussels.