Varoufakis' new pan-Europe party aims to strengthen democracy
Comments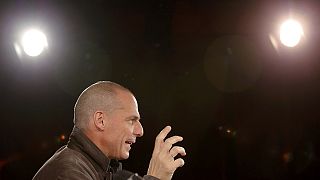 "We want to strengthen democracy and prevent the EU's disintegration." The message from former Greek finance minister Yanis Varoufakis, as he launches a new pan-Europe political party.
He has been laying out the aims of the Democracy in Europe Movement 2025.
"A political movement that starts everywhere in Europe at once, across borders, independently of prior political party affiliations, that has one simple objective: to get Europeans around a metaphorical table, digital table, in forums like this one tonight, to discuss as Europeans their common problems and what we want are common solutions to these common problems to be," said Varoufakis.
The anti-austerity champion, who battled with Germany over Greece's debt problems, says the EU is failing on economic policy and the migrant crisis. This, as member states retreat into nationalism.
Varoufakis stressed that the movement is open to all democratic forces – Left, Greens, Socialists and Liberals.
The movement's manifesto calls for full transparency in the EU's decision-making process, and the formation of a European Constitution by 2025.
First DiEM_25</a> session is under way. Its theme? Our Europe&#39;s multiple crises. <a href="https://twitter.com/hashtag/DiEM25?src=hash">#DiEM25</a> <a href="https://t.co/imQPqtmq4Z">pic.twitter.com/imQPqtmq4Z</a></p>&mdash; Yanis Varoufakis (yanisvaroufakis) February 9, 2016
Varoufakis was ousted from the Greek government by Prime Minister Alexis Tsipras after the country held a referendum on whether to accept a tranche of demands from its creditors in return for a bailout.