Britain's demands for EU reform
Comments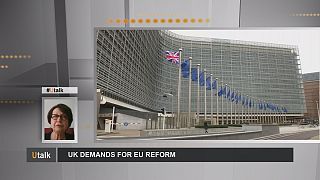 This week on UTalk, a question from Hélène in Brussels: "The British Prime Minister has promised to hold a referendum on Britain's EU membership by the end of 2017. Meanwhile, he is asking for EU reform which would lift any threat of a so-called Brexit. So, what are his main demands for change?"
Anne-Marie Motard, professor of Contemporary British Studies at the Université Paul-Valéry in Montpellier, France, answers:
"The British government presented four main demands to the European Council last November. The demands touch on four fundamental areas of the European integration process.
First, on EU citizens' freedom of movement. British Prime Minister David Cameron wants Europeans who come to the UK to wait four years before they can claim welfare, such as family allowances or housing benefits.
The second demand is about currency. Cameron does not want the euro to be considered as the EU's single currency. Because if the EU had more than just one currency, the decisions made by the Eurozone's members would become optional for other members of the EU, they would no longer be binding. And that would help preserve the power of London's financial market.
The third demand relates to the single market. To boost Europe's competitiveness, the British Prime Minister wants to further ease movements of capital, and also for EU regulation to carry less weight for businesses.
The last demand is about national sovereignty. To avoid greater EU political integration, David Cameron wants to remove from EU treaties the mention of 'an ever closer union among the peoples of Europe'. He wants to increase the checks and balances and the veto rights of national parliaments."
To be, or not to be together, that is the question… My proposal for a new settlement for #UKinEUhttps://t.co/w4VSmnbahQ

— Donald Tusk (@eucopresident) February 2, 2016
If you would also like to ask a question on Utalk, click on the button below.