VW scandal: EU deal allows vehicles to exceed pollution limits
Comments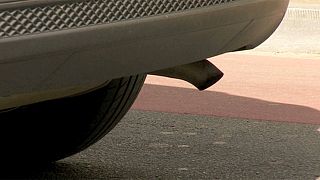 EU politicians have backed a compromise deal which will allow vehicles to exceed official pollution limits.
It flies in the face of calls for more radical reform in the wake of the Volkswagen emissions test scandal.
The vote only narrowly rejected a proposal to block the move.
Volkswagen's admission in September that it had cheated US diesel emissions tests sparked a political storm in Europe, where around half of vehicles run on diesel.
The European Commission, the EU executive, had already begun trying to close a known gap between laboratory testing of new vehicles and the real world, where toxic emissions have surged to more than seven times official limits.
But, according to the Reuters news agency, the European Automobile Manufacturers' Association (ACEA) said in a position paper that the Commission's reform plans were too challenging for current diesel models and could threaten technology as a whole, jeopardising jobs across the region.
EU member states reached a compromise in October – now backed by the European Parliament – that cuts emissions, but still allows a 50 percent overshoot of the legal limit for nitrogen oxide of 80 milligrams/kilometre.
"It's a disappointing vote. It's clear that the car lobby won. I mean we knew they need to have new tests. But they used this momentum to weaken the target," said Bas Eickhout, a Dutch Green MEP.
"So yes, we have better tests, but we are even doubling now the emission target. So more or less, we are legalising cars to pollute more, while it's a loss for democracy, air pollution and our citizens health."
Diesel is particularly associated with emissions of nitrogen oxide, linked to lung disease and premature deaths.