UK's Cameron cool on EU's reform offer
Comments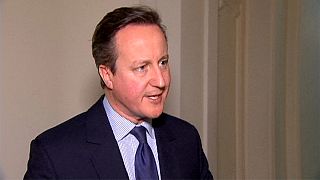 A sight of a Union Jack flying in Brussels might be a less regular event if the British Prime Minister's EU reform drive doesn't go his way.
Officials gave British Prime Minister David Cameron a warm welcome as he arrived in Brussels for talks with European Commission president Jean Claude Juncker.
Cameron also met with European Parliament president Martin Schulz, although there was no immediate word as to whether he had accepted his invitation to speak before MEPs.
Downing Street prefers a deal next month in time to hold a referendum in June.
"The British people and I want a system where you have to pay in before you get out," Cameron said in an interview with British television.
"We don't want a 'something for nothing society'. That's what we are determined to deliver. We made some progress today, it is not enough. It's going to be hard work," he said.
The British premier said a proposed "emergency brake" to curb European immigration to Britain would not be enough to persuade British voters.
He had been pushing for a four-year ban on paying benefits to EU workers for four years, but many leaders and Commission lawyers believe such a move would amount to illegal discrimination.
Cameron says he supports staying inside the EU, but claims he'll campaign to leave if there's no deal.
He hopes to try and unify his Conservative party by keeping its eurosceptic wing onside.
David Cameron continues his diplomatic show Sunday in London, where he meets the head of the European Council, Donald Tusk.
Tusk has the important task of chairing EU summit and will be a key broker in the talks that could eventually lead to a deal with other governments.